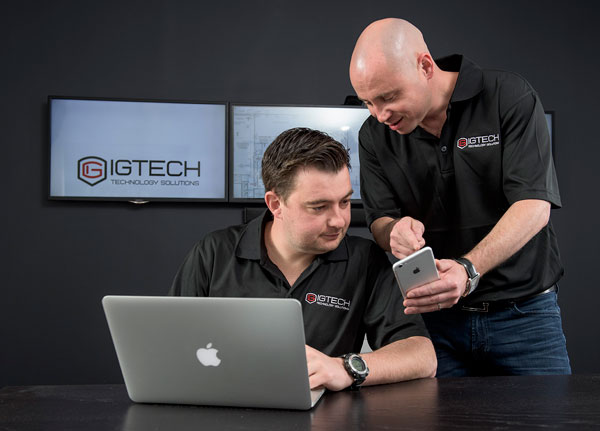 IGTECH is a Professional Telecom Service Provider with suite of solutions for residential, commercial and governmental environments. IGTECH is committed to achieve uncompromised customer satisfaction. We value the importance of relationship with our clientele. Our commitment to meet your expectations on time and on a budget.
Structured Cabling
Our Cabling Division offers professional design and implementation of all types of voice, data, and security infrastructures.
A/V Automation
Take advantage of professional audiovisual system integration that removes barriers instead of creating them
Surveillance System
We built solutions from HD to 4K cameras from simple NVR to VMS systems with video Analitics.
Security Systems
Physical security including RFID and Face Recognition Access Control, Video Intercoms and Entry systems.
Enterprise WiFi Systems
Much more than WiFi, we provide full Software Defined Network (SDN) solution with seamless integration of hi-performance switching, gateways, and more
GPON
Reduce Power and Cooling, Lower Capital Cost. The combination of Capital and Operational cost savings equate to significant long-term financial benefits
Program and Project Management
IGTECH PM Devision will make sure project will be completed on time and on a budget
Various Levels of Assessment
Our consulting team can help you design and implement your project. We are with you from the beginning to the end.
At IGTECH we belive in Relationships with our clients.
"I had the pleasure of hiring IGTECH to help me complete my A/V Project. The experience I had was more than positive and I would like to thank the team for doing such a superb job"
Gene E
Morganville NJ
"Top notch customer service! I found IGTECH team was very knowledgable and I had complete confidence Very happy with results. 100% Recommendation! Will use again."
John B
Staten Island NY
"Contracted IGTECH for in room WIFi covarage. IGTECH specified in-Wall AC AP for unparalleled coverage and performance. The 5 GHz radio provided unprecedented scalability for 136 room hotel"
Zoe P
New York NY
WE'D LOVE TO HEAR FROM YOU
WE ARE HERE
165 Amboy RD Ste:400
Morganville, NJ 07751
OFFICE HOURS
Monday – Friday
8:00 AM to 6:00 PM
SAY HELLO
( 212 ) 201-5757
Send us a Message
Your email will not be published, required fields are marked.